"Share your food with the hungry and open your homes to the homeless poor. Give clothes to those who have nothing to wear." – Isaiah 58:7
In the Hour of Need Family Shelter
FUMC volunteers provide meals, fellowship and hospitality at the IHN location on June Street in Worcester for 1 week each year in the spring and one week in the fall for 5 families who are temporarily homeless.
Dismas House
Dismas House is a supportive community that provides transitional housing and services to former prisoners with minor convictions. FUMC team members cook and serve dinner the 4th Monday of every month.
Westborough Food Pantry
Non-perishable food and personal items are collected then delivered to the Westborough Food Pantry. A collection box is located in the lobby of the church.
Other Local Community Service Ministries
Local Outreach in our community: For those of you who are not able or inclined to travel distances to take part in outreach, fear not- we have so many opportunities close to home that you will be able to make a great difference in lives of people living in Boston, Worcester and Westborough! And you will not even have to get your passport updated!
Some examples of local opportunities include:
Purchase gifts at Christmas time for local children in need
Offer meals and overnight supervision to families living in a homeless shelter in Worcester, MA
Offer fellowship, food and basic necessary supplies to folks living in homelessness in Worcester
Attend special events with children living in a state hospital several times per year
Donate food for our local food pantry
Donate blood for the American Red Cross at the blood drives our church hosts twice per year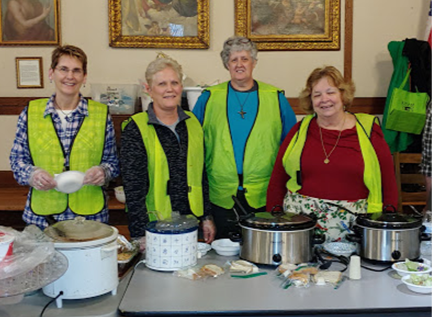 Entrusted Ministry
How blessed we are that God has provided us with such a beautiful planet to live on and we believe it is our job to take good care of it! We have several initiatives going on within the church locally to improve our carbon footprint through increased recycling efforts and being mindful of energy consumption. This new ministry just kicked off in the spring of 2019 and is sure to bring some exciting (and likely outdoor!) opportunities to get involved!